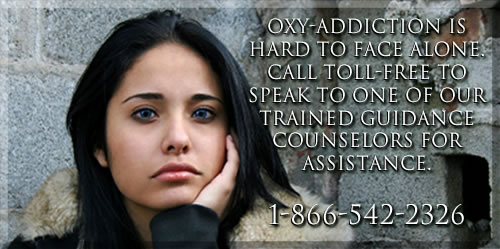 OxyContin Statistics
For all those who believe that OxyContin addiction is simply a "media creation", consider the following OxyContin statistics:
From 1998 to 2000, the number of people entering an emergency room because of misusing hydrocodone (Vicodin) rose 48 percent, oxycodone (OxyContin) 108 percent, and methadone 63 percent. The rates are intensifying: from mid-2000 to mid-2001, oxycodone went up in emergency room visits 44 percent. (SAMHSA)
Over the past decade-and-a-half, the number of teen and young adults (ages 12 to 25) who are new abusers of prescription painkillers such as oxycodone (OxyContin) or hydrocodone (Vicodin) has grown five-fold (from 400,000 in the mid-eighties to 2 million in 2000). (SAMHSA)
The 2004 OxyContin statistics from the National Survey on Drug Use and Health (NSDUH) revealed that 3,000,000 people over the age of 11 had tried OxyContin for a nonmedical purpose, and 615,000 people tried OxyContin for nonmedical use for the first time in 2004. But oxycodone is well in the public eye because it has widespread legal use, with 38,100,000 prescriptions in 2005, of which over 19% were for OxyContin.
OxyContin is blamed for almost 1,000 deaths per year; and that number continues to rise.
OxyContin statistics show that theft is becoming more and more of a law-enforcement problem, with over 2,000 OxyContin related crimes committed last year alone.
Emergency room visits as a result of OxyContin use number in the "five figures" across the United States and two years ago topped 20,000 for the first time.
Heroin and OxyContin are molecularly almost identical.
Heroin and OxyContin operate in the same manner in the body.
Heroin and OxyContin are interchangeable and addicts regularly use the one that is available.
OxyContin statistics show that this medication is easily obtained from a number of doctors who prescribe it for any excuse as long as the patient can pay for the office visit.
By function, oxycodone (the active ingredient in OxyContin) locks onto the brain's opiate receptors. This obstructs the transmission of spinal cord pain messages. At high doses, oxycodone signals the body to manufacture dopamine in the brain, and produces a similar elation as evoked by street drugs.
More patients turn to pharmaceutical painkillers to relieve more than just medical pain. Illegitimate use of oxycodone has reportedly been tied to celebrities, indicating how non-medical use skyrockets, making patients prone to oxycodone addiction.
OxyContin statistics show that tens of thousands of online searches for "OxyContin addiction" were recently gathered and analyzed by ground-breaking technology. Overwhelmingly, the most popular two and three word combination was "OxyContin addiction", at 35,694 queries over an one-year period. After these general inquiries, "OxyContin addiction treatment" ranked third (3,147), only slightly behind "addiction treatment" (3,150).
Another word that is commonly associated with specific addiction searches is "symptoms." This also holds true in this study, with "OxyContin addiction symptoms" rounding out the top five. OxyContin statistics show that there were 2,201 annual searches. High numbers of searches on the topic of OxyContin detox also indicate the addictive nature of this painkiller.